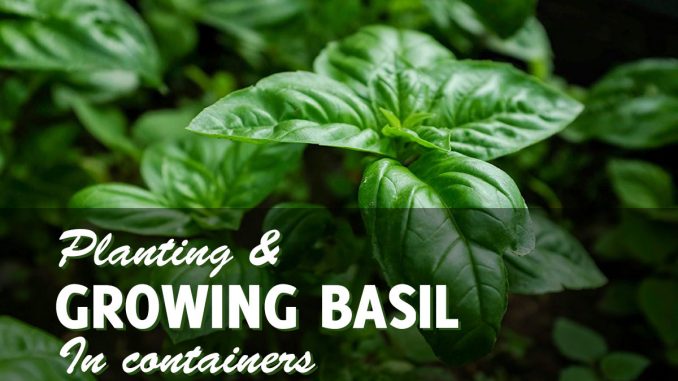 Growing basil in pots in insanely easy. In fact, basil is one of the most popular herbs to growing in pots. It goes well in almost any dish made with tomatoes, cooked or raw. It also tastes great with fish, meat, rice, and even some fruits!
Before You Start Growing Basil in Pots
Basil needs heat, and will not grow in cold climates. You cannot successfully grow basil indoors unless you keep your home warm, invest in a small indoor greenhouse and heating mat, or you have one room in your home that you can keep warm enough. If you set your air conditioning to under 75 degrees, you will probably have problems growing basil indoors.
Basil can be grown from transplants or seeds. Starting the seeds is not particularly difficult, but if you can find the variety you want as a transplant in your local nursery, it is probably best to save yourself the trouble.
Of course, buying seeds and starting them yourself might be cheaper, but only if you already have everything you need other than the seeds. I would stick to using plants if you can find what you are looking for. If you simply must start your basil from seed, follow the directions on the packet.
The Best Varieties of Basil to Grow in Pots
Sweet Basil – This basic variety is the easiest to grow of any I have tried.
Siam Queen – This is a Thai basil that is excellent for use in Asian-inspired dishes. It is also a beautiful plant.
Genovese – This is the quintessential Italian basil, and is THE basil for making pesto. It grows well in pots and has exceptional flavor.
Lemon Sweet Dani – This variety has a lovely lemon scent and tastes great in salads and in fish dishes.
I don't like to grow the red and purple varieties, because they have a bit of bitterness to them, but they do make beautiful salad additions. If you want them, try out Purple Ruffles or Red Rubin.
Choosing the Right Potting Mix for Basil Grown in Pots
You should use a standard potting mix with a bit of sand and dolomite lime added. Simply fill the pot with soil and plant the basil transplant at approximately the same level it was in the starter pot. Pack it in a bit, then water lightly to settle the soil. It's that simple to transplant basil!
Basil grows best when it is very hot, and when the soil is allowed to go dry between waterings. Overwatering this plant will cause a severe lack of flavor, and may even kill the plant. Of course, it does need to be watered, and you shouldn't let the soil stay bone-dry. But going a day or two between waterings is good for basil.
Never plant basil before the night time low temperature is consistently above 50 degrees F. If you must, you can cover the plants at night, but the warmer the weather is, the better they are likely to do.
You should fertilize basil with high-nitrogen plant food when you plant it. Then you should feed it once more in the middle of the summer. It does not need to be fertilized often.
Harvesting Your Pot Grown Basil
You should harvest the last of your basil before there is any threat of frost, no matter how light. Even the lightest dusting of frost, something that most other plants would not be harmed by at all, can devastate basil. Even the lightest frost can turn basil into a shriveled black nightmare. Trust me, bring your basil in before any threat of frost!
To harvest basil, simply snip off the number of leaves you need. To stimulate beautiful, bushy growth, you can also pinch off an inch or so of each branch, but don't get carried away. Basil is subject to diminishing returns. If you pinch too much, you'll only encourage it to flower and stop producing as much foliage. You should harvest the more substantial, darker leaves, as they have the most flavor.
If basil is not your favorite herb then have a look at our guide on growing chives in pots!