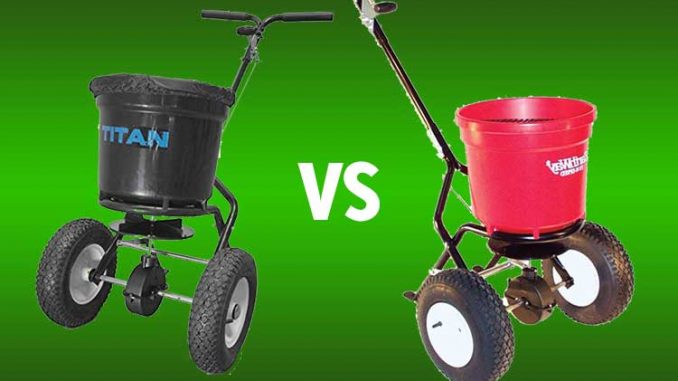 Broadcast spreaders allow the easy dispersal of fertilizer and other granular products over large areas quickly. Add on the fact that they are simple to operate by gardeners or all ages and it is easy to see why broadcast spreaders are so popular.
While skimming the lawn tool marketplace, you will notice there is a wide range of spreaders to choose from. For those who are looking to spread fertilizer and other granular products much quicker and more efficiently, broadcast spreaders, and more specifically, the TITAN Professional as well as the EARTHWAY Broadcast Spreader usually will do the trick. They are an insanely popular pick with seasoned landscape professionals and are preferred because they are perfect if you want to indiscriminately spread your fertilizer spread onto as much area in the shortest time possible. Check out our comparison of the two products, keep reading.
The TITAN Professional Broadcast Spreader is manufactured by Pallet Forks. It comes with a handle that can be adjusted for preferred lengths and positions; this helps to quell individual preferences and minimize ergonomic discomfort and lessen limb or shoulder pain. Coming with a 50 lb drum, the Titan spreader has the capacity to spread upon one's lawn all manner of products, be they pesticides, fertilizer, seeds, ice melt, herbicides or insecticides. Operators of this spreader will love how durable it is, how even the spread coverage is, as well as its inclusion of a large hopper cover which ensures that the product inside the machine is protected even during bad climate.
This compact walk-behind lawn spreader is an awesome tool for small to medium sized lawns that require regular maintenance. This device can be adjusted to fit spread in different area sizes, which makes for a rather convenient and easy spreading sessions even on nonuniform terrain. The awesome 50 pound capacity is sufficient to cover spaces in most residential areas. The small size of this fertilizer spreader also means that it can be easily stored even if you are short on storage space. It is designed to deliver a uniform fertilizer spread across your yard even on terrains that are rough and uneven. It comes with a heavy-duty frame that is made to withstand everyday use in all seasons, making it a particularly useful investment for so many homes and garden spaces.
How Do They Compare?
Ease of Use & Storage
Contrastingly, there also happens to be a general consensus among those who have used the TITAN BROADCAST SPREADER about the assembly instructions being damn near impossible to follow, making assembly very difficult. And so those who seek this spreader online are strongly urged to peruse online thoroughly for an assembly tutorial to assist them. EARTHWAY, on the other hand, is easily put away when idle, it is perfect for residential spaces, and its handles are adjustable to ensure that it is comfortable and easy to use, delivers a uniform and symmetrical spread of product and has easy instructions.
Comparing Durability
Manufactured almost entirely out of steel, this sturdy has decently sized tires span thirteen inches, and this makes the entire contraption less difficult to move around and offers the operator the time and ease to work efficiently and for as long as he can. Unlike most seeders, the TITAN PROFESSIONAL BROADCAST SPREADER requires minimal repairs and makes for easy use. Its rolling tool happens to be an ideal option for an easy and quick operation that promises consistent operation year in year out. This, and the fact that all Titan Attachment tools are constructed using rugged materials hence promising long-lastingness sets it all the way apart from the EARTHWAY, which, albeit impressive in its compactness, is not as durably designed.
Size of Hopper
The TITAN Spreader bucket has the capacity to 50 pounds of your preferred fertilizer material. Since frequent refills of fertilizer, while spreading product is a disruption to good workflow and rhythm, this is an important feature, a large capacity hopper. The EARTHWAY, unlike the TITAN, does not come with the varying hopper options. These include a basket lid, a soft plastic cover with an elastic edge. It is made of steel and durable plastic, therefore you can forget about the damage caused by weather and humidity. Those who are interested in purchasing it should be prepared to figure out the assembling process as the instructions are not very helpful.
Quality Axle & Tires
The tires on the EARTHWAY Spreader are of decent width and well inflated, aiding them in being gentler on all terrains, more so than most other spreaders. As with most EARTHWAY releases, the tires and axles on this spreader are constructed with high-quality materials that guarantee long term integrity. It's the best tool for reliable and dependable garden treatments. That said, the TITAN Professional Broadcast Spreader comes with 3-level flow settings. Coming with a decently sized T-shaped handle and large wheels, the TITAN Professional Broadcast Spreader is intended to make for an easy pushing experience.
Ideal for All-Terrain
Here, also, the TITAN Professional Broadcast Spreader has a bit of an edge over the EARTHWAY. The TITAN proved effective and efficient with many terrains. Maneuvering around roots, brambles, and brambles is quite easy. It also operates smoothly on the turf without ruining your lawn. Even though the EARTHWAY sturdy in its own right, the fertility of your soil is also crucial if your desire is to have a healthy yard, and so treating your yard.
Conclusion
Procuring the right brand of spreader is also crucial for it assists you to create a pleasant and conspicuous lawn-scape, but we have attempted with this article to help you in your quest to purchase the ideal broadcast spreader between the two. It should now be clear selecting the ideal spreader is dependent not only on the size of your fertilization area but also on the preferred intention of your land as well as its durability. For us, we found the TITAN Professional Broadcast Spreader to be the more impressive and consistent product between the two; its promise of durability, as well as its large hopper capacity, sold us. Good luck!