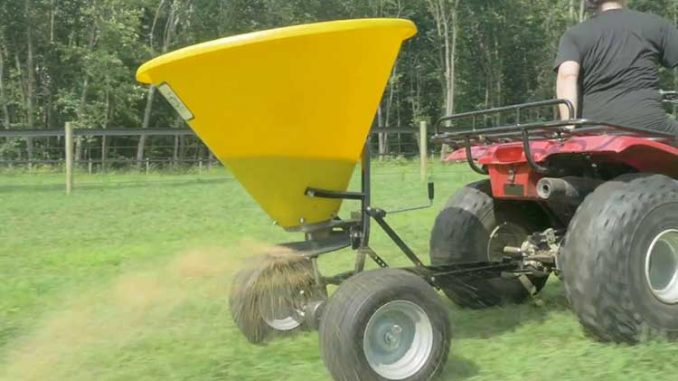 For those who own ranches and enjoy maintaining them, tilling and fertilizing them is a priority. Broadcast spreaders are preferred because they make your plants and grass develop optimally, and they elevate the general aesthetic of your space. For those who own large tracts of land, then having a convenient gadget to "broadcast" your fertilizer on your lawn is that much more advisable.
If you happen to own a large-sized ranch, then securing for yourself a broadcast spreader is the best way for you to distribute fertilizer and other nutrients to your plants. With it, there is little to no heavy-lifting required, and it helps you get the job completed quickly and efficiently. It is not only important that you get yourself a broadcast spreader, but it is also crucial that you be clear about the features and benefits offered before choosing one to purchase. In this buying guide, we shall attempt to explain some important things about picking a broadcast spreader as well as dish out some advice on how to get the most from the one you eventually get broadcast spreader.
What to Keep in Mind When Looking for a Broadcast Spreader for Your Food Plot
Acreage
The size of your lawn or property is a vital factor to consider when choosing a broadcast spreader. It is not in your best interest to get a spreader with a tiny hopper since you will spend more time refilling than spreading. Therefore, think about the dimensions of the lawn and match your decision to the dimensions of the hopper. This way, you can ensure you lessen the need for constant refilling.
Terrain
Another factor you will need to take into consideration is that you pick the most effective spreader optimally conducive for carrying or moving. After all, you don't want to acquire a spreader that will be hard to maneuver when spreading. Moreover, have a look at the tires in addition to the handle. Opt for an ergonomic handle because this will assure your comfort. Large pneumatic tires will also go a long way in saving you time from the prospect of having flattened tires from thorny things in the farm, and their largeness will mean ease in tilling the soil.
Sturdiness & Durability
It is important that you get a spreader that features components designed to withstand corrosion, breakage, or flaking, a machine that's built to last for you do not wish to keep getting a new one season after season. A simple way to go about this is by picking a fertilizer spreader with a thick plastic material or durable steel construction. Furthermore, consider the weight capacity and ensure that you get a spreader that can accommodate the weight that you want without resulting in breakage. Hoppers are normally constructed out of thick, plastic, or steel and should be securely connected to the carriage. Most carriages are made from steel tubing that's been reinforced to hold around 200 pounds of grass seed or other material.
Dispensing Mechanism
Regardless of what kind or size of land we are talking about here, it goes without saying that the dispensing mechanism of your prospective machine is something worth looking at carefully. The priority here should be with something that is intolerant to rust, scum, or clogging. Also, ascertain that the machine is adjustable and that its intricate workings are workable ought to give you an idea of its output and rate of flow. If the spreader is going to be utilized for different functions, it is also best to know the very best method of cleaning the spreader until it is saved for the winter or another material is used.
Control Panel
This is an important feature to ensure it allows the operator to easily choose how much seed or fertilizer material is needed to be dispersed into one specific area. The electronic controls should be simple in order to read and understand the mechanics easily.
Reviewing the Best Broadcast Spreaders out There
Overwhelming the sheer importance of broadcast spreaders to gardeners everywhere looking to buy the right fertilizer spreader is the even more overwhelming number of different broadcast spreaders available out in the market, all of which possess different attributes, weights, purposes, intended space, mechanisms of use, colors, hopper capacity and warranty period. As well, there is also a large variety of brands and manufacturers that offer great garden tools, which depending on who is looking, could make your decision that much more difficult to make: These five devices listed below are all verified and tested of decent broadcast spreaders:
Comparison Table
| Name | Manner of operation | Hooper Capacity/Weight | Comes with warranty? | Check on Amazon |
| --- | --- | --- | --- | --- |
| | Tow-behind | 110 pounds | No | |
| | Wheeled | 80 pounds | No | |
| | Push along | 50 pounds | Yes | |
| | Hand-operated | 1 pound | No | |
| | ATV | 50 pounds | Yes | |
The Craftsman Tow Broadcast spreader is meant to be shoved back in the rear of your farming locomotive or lawn mower that has a control hitch to till inordinate sizes of land fast and reliably. It features rather sizable ten-inch pneumatic tires that boast the capacity to handle uneven terrain and yet provide a peacefully smooth ride throughout. Its huge 50 kg hopper has been measured to till around half an acre of lawn using a ten-foot spread pattern. Its carrying bad and rotary plate are designed to prevent wearing and rusting and its dense steel gears sell this spreader as one of the most durable option. Moreover it boasts the ability to be used for other functions: for fertilizer, pesticides, grass seed, and even ice varying on the time of year. It is, you will be glad to hear if you fall into this category, perfect for larger properties, the spreader at the rear can be made to serve multiple functions for year round seasonal landscape maintenance purposes.
Pros
Spreading rate is simple to use and modify
Perfect for large land sizes
Makes for easy assembly
Cons
Connecting hitch is insufficiently positioned
Pull-behind-only design is not adjustable
This Moultrie weighs 50 lbs. and the best option for those looking for a sturdy yet plastic hopper. As a plus, it comes with a high voltage motor that can provide its users with all the necessary power. The MOULTRIE's construction incorporates a shut-off gate that is adjustable in order to assist the operator to control the rate, kind and amount of product disseminated by the device. Moreover, the product has a built-in quick-release system that allows for easy detachment of the bucket. This dispenser can be, therefore, easily connected to your ATV or truck battery for more convenience. However, it is worth noting that some users considered the battery attachment quite flimsy. Overall, the model has received great feedback comments from its users. Most of them considered it worth the investment and they warmly recommended it.
Pros
Constructed with high-quality tapered plastic
Adjustable shut-off gate
Effortlessly detachable bucket
Cons
Low-level seed is not dispensed as when full
An extra cable system is required.
The Chapin 8401C is a perfect choice for homeowners that want the quality of a commercial spreader, but want to save a bit of money. It generally costs around $100 less than the Lesco. The 8401C has an 80 pound hopper, which is more than adequate for most yards. The pneumatic tires are some of the biggest and best of any spreader out there. In addition to their broad pattern design, the big tires alleviates the difficulty of pushing this whole contraption down and up through hills and through tough and deep grass. The frame and most of the metal parts are made from stainless steel to prevent rust. The gears are made from metal and enclosed to add to the life of the spreader. I have read that a few users don't feel like the edge guard works as well as competitors and that this unit is fairly time consuming to assemble. Other than that, this spreader deserves strong consideration.
Pros:
Handle is very comfortable to grip
Stainless steel frame and linkage control to prevent rust
Wide tread pneumatic tires make it very easy to maneuver
Cons:
Edge guard doesn't work as well as competitors
Fairly complex to assemble
The Titan Professional Broadcast Spreader comes with its handle that can be adjusted for preferred lengths and positions; this helps to quell individual preferences and minimize ergonomic discomfort and lessen limb or shoulder pain. Coming with a 20 kg drum, the Titan spreader has the capacity to spread upon one's lawn all manner of products, be they pesticides, fertilizer, seeds, ice melt, herbicides or insecticides. Manufactured almost entirely out of steel, this sturdy has decently sized tires span thirteen inches, and this makes the entire contraption less difficult to move around and offers the operator the time and ease to work efficiently and for as long as he can. The tires are of decent width and well inflated, aiding them in being gentler on all terrains, more so than most other spreaders. Operators of this spreader will love how durable it is, how even the spread coverage is, as well as its inclusion of a large hopper cover which ensures that the product inside the machine is protected even during bad climate. Contrastingly, there also happens to be a general consensus among those who have used this machine about the assembly instructions being damn near impossible to follow, making assembly very difficult. Thusly, it is recommended that anyone purchasing this spreader look online for tutorial assembly videos to help the build process.
Pros:
Hopper cover included
Adjustable handle
Solid build
Large capacity drum
Even spread coverage
Cons:
Poor assembly instructions
The Scotts Easy Hand-Held Spreader is the perfect choice if you're looking for something hand-operated and simple. It is suitable for all the factors stated earlier as the price, size, way to use and durability. It weighs almost 2.4 pounds and used mainly for small yards and easy use. It's a good choice for you if you don't like the push machines. However, it's important to note that it doesn't work well with moist fertilizer.
Pros:
Low price
Easy to use
Easy to clean
Lightweight
Cons:
Have to tilt while using
Lack of control
Weak motor
Conclusion
The prospect of damaging your plants or flowers as a consequence of wrongly dispersed fertilizer is not only unnecessary; it is an extremely unprofitable one. We strongly recommend that your decision be tethered to any of these five picks above. While you deliberate upon your decision, it is important that you not lose sight of this buying guide and all the insights it contains. More importantly, it is vital that you do not allow the prices of the products to be the determinant of the broad cast spreader you wish to go for because it is not always the case that the numbers on the price tag indicate physical longevity. You are in a better position if you purchase a product that will cost more in the beginning but eventually save you tons of money in the long run. If you have a lawn, and you are in charge of its care, then you might want to consider a dependable broadcast fertilizer spreader. For this review, we found the CRAFTSMAN CMXGZBF7124571 110-LB TOW BROADCAST SPREADER to be most preferred for anyone looking for something that's automated, dependable and makes for a quick and efficient spreading session.